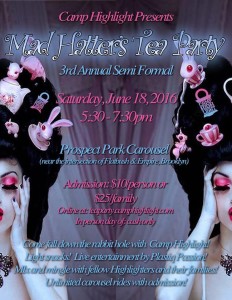 http://teaparty.camphighlight.com/
Name

Camp Highlight's Mad Hatter Tea Party

When

Saturday, June 18, 2016

Where

Prospect Park Carousel (

map

)

Near the intersection of Flatbush Ave and Empire Blvd
Brooklyn, NYC

Other Info

Get ready to fall down the rabbit hole with Camp Highlight! For our 3rd annual semi-formal, we are having a Mad Hatter Tea Party! Meet us at the Carousel in Prospect Park (near the intersection of Flatbush and Empire) for light refreshments while enjoying the musical stylings of Plastiq Passion! The staff, campers, and families of Camp Highlight will be in attendance. Party attendees will have unlimited carousel rides! This is a family friendly event.

If a child from an LGBTQ family wants to attend Camp Highlight, we do not want finances to be a barrier. Our annual semi-formal raises money for our Campership Fund which helps bring children to Camp Highlight. Proceeds from this event go to the Campership Fund! You can also buy a raffle ticket to win great prizes! If you cannot make the event, please consider making a donation! Help us make dreams come true!